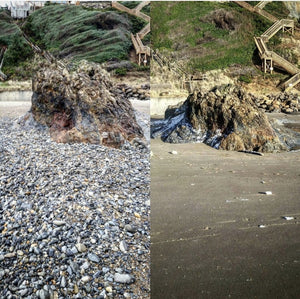 Dread for the Rockhounds: Sand Season
Every year a horrible event occurs for coastal rockhounds.
SAND SEASON
As spring rolls in and shifts to summer, so do the tides and waves. Mellowing from their winter warrior ways to gentle summer swells and along with the departure of rough waves comes the "so long until next season" to the rock beds. Where do they go? Under up to 15 FEET of sand! WOW!
Spring storms from the southwest bring back the sand swept offshore by our aggressive fall and winter tides and storms. We don't even need a storm to bring back the good hounding, just a constant swell from the north in Lincoln City is enough over a period of time to scour the beach of sand. 
The image featured, I took one year two DAYS apart, DAYS! That is how dynamic the Oregon Coast can be! 
Looking for a good time to visit to look for stones and other treasures? There are a few ways to make sure you show up during treasure season! First, book your visit sometime between the first of the year and early spring. January through April is typically safe but each year is different. I haven't met a February and March I didn't like! 
If you live close enough for a daytrip, consider following our Facebook for Rockhound Reports and join Oregon Rockhounding and Beachcombing group for member updates. 
Interested in more? Join Laura on the Beach for a private or public Beachcombing Exploriance! What is a Beachcombing Exploriance? Sponsored by Explore Lincoln City, we go out on the beach for a two hour walk and talk all about how Lincoln City is one of the BIRTHPLACES of the Yellowstone hotspot and I will teach you about all the pretty rocks and gems to be found on our coastline. Super cool! Public dates will be published and announced by both Rock Your World and Explore Lincoln City in mid-November 2022 and private bookings will be available on our website shortly thereafter. 
If you have never rockhounded Lincoln City or the Oregon Coast, you are in for the treat of a lifetime! See you on the Beach!
---
1 comment