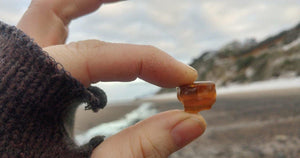 Where to Find Cool Rocks In Oregon: Rockhounding the Central Oregon Coast
No matter if you are new to rockhounding or an old seasoned pro, the central Oregon Coast is a rockhound's paradise, with gemstones to be found on almost every beach if the conditions are right.
What are the right conditions you ask? 
In Lincoln City, where we are located, we recommend late winter and early spring tides, but gems can show up any time of year. In the late winter and early spring, waves tend to come more from the north than the south and this tends to pull sand away from the gravel beds containing agate, jasper and other sought after gemstones.
We recommend visiting Lincoln City beaches up to 3 hours ahead of low tide as the bedrock is close to the surface and tends to leave gravels higher up on the beach away from the low tide line. If you wait for low tide, they may be picked over by then. 
What kind of conditions are best for rockhounding the central Oregon coast? Most rockhounds will recommend during or after a good storm, which we agree will uncover treasures. The best time in our opinion is after days of a "north break" or waves from the north, in the winter, which move sand away from the beach. 
How can you tell what beach conditions are? 
First, check tide tables, we like the info available at Tides4Fishing.com
Then, visit our Facebook page for beach condition videos: Rock Your World Gems Facebook
Next, you can check the Facebook group: Oregon Beach Gravel Bed Reports
and finally check your favorite weather source. 
We never recommend going out beachcombing when there are high surf or wind advisories, no rock is worth your life. 
What are you looking for? Just about everything that can be found in a sustained bimodal volcanic environment and a large igneous providence. Bimodal what? It means that multiple kinds of lava erupted giving us the right environment for agates, jasper, petrified wood, quartz crystals and other goodies. 
How do I find them? Get out on the beach and look! Also look anywhere that was once a beach near the coast. Once you are out there, try to position yourself so the rocks are between you and the sun. Everything translucent will GLOW allowing you to find beautiful agates. 
Where on the beach? Anywhere a rock could be, I have found treasures far far out and up against the cliffs. 
How do I know if I am picking up the right thing? Well that's for my next blog post. Until then!
Enjoy this blog post? Want to support us producing more?  Click here to help sponsor our work!
---