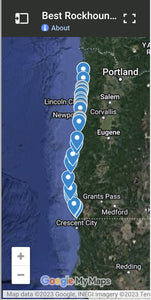 Rock Your World: Interactive Map of the Best Beachcombing Beaches in Oregon
Discover Oregon's Coastal Gems with Our Rockhounding Map
Navigate to Nature's Hidden Gems: Our Interactive Rockhounding Map for Oregon's Beaches is Live!
Attention all rockhounds, nature lovers, and treasure seekers! We're thrilled to announce the launch of an incredible new resource that will elevate your beachcombing adventures to new heights. Our Interactive Rockhounding Map for Oregon's beaches is now live and accessible to guide you through the sandy stretches of our beautiful coast.
At Rock Your World, we've always been passionate about unearthing the hidden gems of our region, and now we're sharing our insider knowledge with you. This isn't just any map; it's your personal guide to discovering the best-kept secrets of Oregon's rockhounding hotspots.
A Treasure Map for the Digital Age
Crafted with care by our expert team, who have spent countless hours combing the beaches of Oregon, our map is a treasure trove of information. We've pinpointed the prime locations where you can find stunning agates, colorful jaspers, and a variety of other geological wonders.
User-Friendly and Highly Detailed
Our digital map is easy to navigate and packed with details. With just a few clicks, you can plan your next rockhounding adventure, taking into account tide times, accessibility, and the types of rocks you're likely to find at each beach.
Safe and Sustainable Rockhounding
We're advocates for the responsible enjoyment of nature. Alongside the map, we provide tips for safe rockhounding, ensuring that your search for coastal treasures is done with care for the environment and respect for local regulations.
A Community of Rock Enthusiasts
Join a community that shares your passion for the hidden beauty of Oregon's coasts. Our map is more than a guide—it's a gateway to connecting with others who share your interests, where you can exchange tips, stories, and the joy of discovery.
---